Annelies Van den Eynden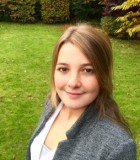 Annelies Van den Eynden has a Master's degree in Translation for English and Spanish at the University of Antwerp. Her Master's thesis includes a comparative analysis of three European universities providing training in PSI. She currently studies the Master in International Relations and Diplomacy at said university, and is a member of the European Network for Public Service Interpreting and Translation (ENPSIT).
Her main interests currently focus on university programmes offering training in PSI and on obtaining EU support for the PSI sector.