Eloísa Monteoliva García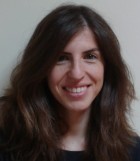 Eloísa Monteoliva is a PhD candidate at the Centre for Translation and Interpreting Studies in Scotland (CTISS), Heriot-Watt University. After completing a BA(Hons) in Translation and Interpreting in 2007, Eloísa worked as a professional translator and interpreter and completed a M(Res) in Translation and Interpreting at the University of Granada, Spain, in 2009. She worked as a Spanish Language Assistant at the City of London School for Girls until June 2010. In 2011 she completed an MA in Teaching Spanish as a Foreign Language at CIESE/University of Cantabria, Spain, and joined the LINCS Department at Heriot-Watt University, where she worked as a Spanish Language Assistant for two years. 
In September 2013, Eloísa was awarded a 3-year scholarship to undertake a PhD on Interpreting in Police Settings under the supervision of professors Ursula Böser and Jemina Napier at the CTISS.
Research interests: public service interpreting, interpreter education and language learning & teaching.