Michal Schuster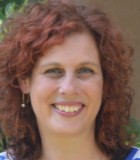 Michal Schuster is a researcher and trainer in the field of public service interpreting and cultural competence. She holds a PhD in translation and interpreting studies from Bar Ilan University. Her fields of interests include language accessibility, language policy, linguistic landscape and academic service learning.
She is a lecturer at Bar Ilan University (Israel), where she teaches a unique service-learning course on community interpreting, as well as translation theories and medical interpreting courses for sign language interpreting students. As a research associate at the University of the Free State (Republic of South Africa) she published several papers on linguistic landscape and service-learning.
Recently, Michal completed a large scale study on the cultural competence of public hospitals in Israel, in cooperation with the Smokler Center for health policy research at Myers- JDC-Brookdale institute.
Michal promotes the professionalization of public service interpreters through teaching, researching and lobbying. Currently, she is the leading trainer of medical and community interpreting courses in Israel, in both academic and non-academic settings. She also trains care providers and consults organizations on culturally-appropriate care and service. She disseminates knowledge and skills through Leshonot ("languages"), a website and a Facebook group on public service interpreting and cultural competence. She is a board member of Critical Link International for the promotion of community interpreting.