Pat Isaacs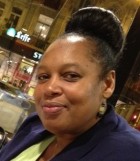 Pat Isaacs is General Manager for Oral Medicine, Facial Pain, Special Needs Dentistry & Oral Surgery at the Eastman Dental Hospital part of University College Hospitals NHS Foundation Trust (UCLH), one of the largest NHS Foundation Trust in the UK.
Pat holds a Diploma in Management (Dip RSA) from the Institute of Health Care Management and is currently working towards achieving an MBA in Health Service Management.
Pat has been involved in
- Championing issues in Women's Health before moving to Specialist Dentistry after 24 years.
- Developing a Bengali Women's clinic, supported by interpreters and advocates.
- Championing the patient's experience group for speakers of other languages and those with sensory loss.
- Setting up a signing club for staff.
- Delivering Equality and Diversity training to all new staff who join the Trust. 
- Promoting Deaf Awareness Training throughout the Trust in close cooperation with SignHealth, British Deaf Association, Action on Hearing Loss and Deaf advocates.  
- Introducing web based interpreting services.
- Rolling out interpreting service across the Trust by influencing the tendering process. 
- Introducing Telephone interpreting as the default system for the Trust.