Kirsty Heimerl-Moggan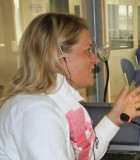 Kirsty Heimerl-Moggan is a Senior Lecturer in Conference Interpreting and course leader for the MA Interpreting and Translation at the University of Central Lancashire (UCLan). She also lectures in Interpreting at Munich University of Applied Languages. She is currently undertaking her PhD studies in the field of note-taking for interpreters.
She has worked as a conference, business and public service interpreter since 1994 and has interpreted in a range of settings including international events such as G8 and EU meetings.
Kirsty is a director of Interp-Right Training Consultancy, an interpreter training company and publisher of interpreter training materials.
Her publications include "Note-taking for Public Service Interpreters" and she is currently working on her next publication.
Kirsty is a Chartered Interpreter and Educator, a Fellow of the Chartered Institute of Linguists, a Fellow of the Institute for Translation and Interpreting (ITI) and a Fellow of the Higher Education Academy, as well as being a full Member of the Bundesverband der Übersetzer und Dolmetscher (BDÜ), the VKD BDÜ (German National Association of Conference Interpreters), the Association of Police and Court Interpreters (APCI) and she is a fully registered interpreter on the National Register of Public Service Interpreters (NRPSI).