Katalin Balogh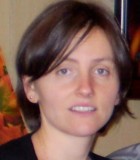 Katalin Balogh is the head and coordinator of the LIT-training at KULeuven Antwerp campus.
Together with Heidi Salaets, they are both trainers for the Flemish community interpreting training programme based in Brussels and assessors for the certification exams organized for community interpreters in Flanders.
Regarding research, Katalin Balogh and Heidi Salaets have completed  the ImPLI-project for DGJustice, Europe (JUST/2010/JPEN/AG/1562 on Improving Police and Legal Interpreting). They coordinated the CO-Minor-IN/QUEST project (Cooperation in Interpreter mediated Questioning of Minors JUST/2011/JPEN/AG/2961) that run from January 2013 until December 2014 on the hearings of vulnerable victims, specifically minors. Currently they are coordinating another DGJustice project namely TraiLLD (Training on Languages of Lesser Diffusion) which runs until March 2016. Katalin has been and is still involved in the AVIDICUS 1, 2&3 projects. Current fields of research include: quality and assessment in interpreting (e.g. admission tests), LIT (Legal Interpreting and Translation), community interpreting, new technologies in interpreting (remote interpreting) and interpreters' training.