Maya de Wit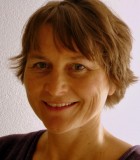 Maya de Wit is a qualified Dutch Sign Language interpreter, RID Certified ASL interpreter and International Sign Interpreter working in the Netherlands and across Europe. In addition, she is an international trainer providing presentations and seminars on, amongst others, sign language user rights, cooperation between interpreters and consumers, and sign language interpreting techniques and skills for specific settings.
From 2006 to September 2012 Maya was president of the European Forum of Sign Language Interpreters (efsli). During her presidency she represented the interests of sign language interpreters at a European level, such as the Council of Europe, the European Commission and the European Parliament. Maya was also a board member of the European Legal Interpreters and Translators Association (EULITA) and worked for ten years as the policy officer for the Dutch Association of Sign Language Interpreters (NBTG).
In 2011 Maya obtained her MA in the first European Master of Sign Language Interpreting (EUMASLI). In her research she explored the sign language interpreter in inclusive education in relation to the view of Deaf persons on their quality of life.  Her latest publication is 'A Comprehensive Guide to Sign Language Interpreting in Europe" (2012).