Ludmila Stern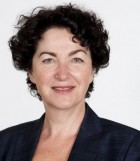 Associate Professor Ludmila Stern is an academic in the field of Interpreting and Translation Studies in the School of International Studies (UNSW, Australia). She was the founder and first convenor of the MA in Interpreting and Translation at UNSW (2005-2010) and the Head of the School of International Studies (2011-2012).
Her research examines interpreting practices in national and international courts, such as the Australian War Crimes Prosecutions, the International Criminal Tribunal for the Former Yugoslavia and the International Criminal Court. Her current projects include Interpreters in court: witness credibility with interpreted testimony (Prof Sandra Hale as the Project Leader, ARC Linkage grant 2011-2014) and From the Nuremberg Trials to the International Criminal Court. Interpreting in War Crimes Trials.
Ludmila has been an invited speaker at seminars and workshops for interpreters, judiciary, counsel and court officials at the ICTY, ICC, Australian Institute of Judicial Administration, National Judicial College of Australia, Judicial Commission of NSW, DPP of NSW, Family Court Judges and Federal Magistrates' conference, Bar Association of NSW and other.
Her historical research examines relations between Soviet organizations and western intellectuals, and includes articles and the monograph, Western Intellectuals and the Soviet Union, 1920-40. From Red Square to the Left Bank (Routledge: 2007).