Kirsty Heimerl-Moggan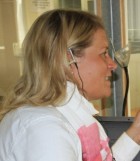 Kirsty Heimerl-Moggan is a Senior Lecturer in Conference Interpreting and course leader for the MA Interpreting and Translation at the University of Central Lancashire (UCLan). She has also lectured in Conference & Community Interpreting at Munich University of Applied Languages, Leeds University and Salford University. She is currently undertaking her PhD studies in the field of note-taking for public service interpreters.
She has worked as a conference, business and public service interpreter since 1994 and has interpreted in a range of settings including international events such as G8 and EU meetings.
Kirsty is a director of Interp-Right Training Consultancy, an public service interpreter training company and publisher of interpreter training materials.
Her publications include "Note-taking for Public Service Interpreters" and she is currently working on her next publication. Kirsty is a Chartered Interpreter and Educator, a Fellow of the Chartered Institute of Linguists (CIoL), a Fellow of the Institute for Translation and Interpreting (ITI) and a Fellow of the Higher Education Academy, as well as being a full Member of the Bundesverband der Übersetzer und Dolmetscher (BDÜ), the VKD BDÜ (German National Association of Conference Interpreters), the Association of Police and Court Interpreters (APCI) and she is a fully registered interpreter on the National Register of Public Service Interpreters (NRPSI).