Ineke Crezee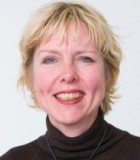 Ineke Crezee holds degrees in Translation Studies and English from the University of Amsterdam and Free University Amsterdam respectively, as well as a PhD in Applied Language Studies from AUT. She also trained and worked as a Registered Nurse in a range of healthcare settings.
Ineke translated her first novel in 1978 and has worked as a freelance translator since that time, including involvement in the Dutch translation of the Nursing Outcomes Classification. She has been involved in interpreter education since 1991 when she helped develop the first healthcare interpreting course in New Zealand, in response to the recommendations of a government committee of inquiry following a series of medical misadventures in the public health system.
Ineke's has published several textbooks, including Introduction to healthcare for interpreters and translators (John Benjamins, 2013). An adaptation for Spanish-speaking interpreters and translators appeared in 2015, while Chinese and Japanese versions are in progress.
Ineke is co-editor of the International Journal of Interpreter Education, and as such enjoys reading the latest studies. She herself is currently involved in several research projects, involving interpreting in refugee settings, shared preprofessional learning involving student interpreters and Speech Language Therapists, and health and legal interpreter education.