Heidi Salaets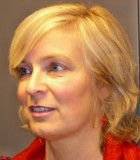 Heidi Salaets currently is head of the Interpreting Studies research group at KU Leuven, campus Antwerp. She is also research associate at the Department of Linguistics and Language Practice of the University of the Free State, Bloemfontein, South Africa.
At KU Leuven, campus Antwerp, she trains interpreters in the Master's course and also conference interpreters (Italian-Dutch) in the postgraduate interpreting programme. She is coordinator of CAIT (Computer Assisted Interpreting Training) and is responsible for the assessment procedure in the LIT-training (Legal Interpreting and Translation) there.
Moreover, she is one of the trainers in the Flemish community interpreting training programme in Brussels and assessor for the certification exams for community interpreters in Flanders. She is also board member of ENPSIT (European Network for Public Service Interpreting and Translation).
Within the field of (interpreting) research, Heidi Salaets has completed together with Dr. Katalin Balogh for the European DG Justice, both the ImPLI-project (JUST/2010/JPEN/AG/1562 on Improving Police and Legal Interpreting) and the CO-Minor-IN/QUEST project (Cooperation in Interpreter mediated Questioning of Minors JUST/2011/JPEN/AG/2961) that focuses on the interpreter mediated hearing of vulnerable victims, specifically minors. She actually coordinates with Dr. Katalin Balogh the TraiLLD-project for DG Justice (JUST/2013/JPEN/AG/4594 about Training interpreters in Languages of Lesser Diffusion) and is involved with Dr. Myriam Vermeerbergen in the Life Long Learning European project Justisigns. Information can be found on: https://www.arts.kuleuven.be/english/rg_interpreting_studies/research-projects
Current fields of research are: quality and assessment in interpreting (e.g. admission tests), LIT (Legal Interpreting and Translation), community interpreting (including (mental) health), SLI (Signed Language Interpreting), new technologies in interpreting (remote interpreting) and interpreters' training (Livescribe Smartpen).