Maurizio Viezzi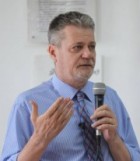 Maurizio Viezzi is coordinator of the T&I programmes at the University of Trieste where he teaches simultaneous and consecutive interpreting from English into Italian. He has published extensively on various aspects of T&I and lectured at several European and non-European universities.
Maurizio Viezzi was chair of the Special Interest Group on Translation and Interpreting for Public Services  which produced a report published by the European Commission in 2011 (SIGTIPS Final Report).
He is president of CIUTI and the Conseil Européen pour les Langues / European Language Council (CEL/ELC).